Every Door Direct Mail (EDDM)
Every Door Direct Mail was created by the USPS and provides small business owners the ability to target local consumers without the requirement of an address! This means absolutely no mailing list to purchase or addressing fees!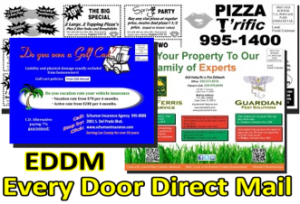 Quickprint Business Center simplifies the Every Door Direct Mail process even more. We can design & print your direct mail message in a variety of sizes, colors & finishes for the best impact. You choose the area in which you want to advertise, pay the USPS postage rate of 16¢ per piece, and we'll handle the remaining logistics, free of charge in Lee County. We can also provide similar mailing options outside of Lee County (ask for details).
Benefits of Every Door Direct Mail:
Choice of routes & dates
No mailing list to purchase
No postal permit to purchase
Increased ROI with over sized printing
One sided or 2 sided color printing available
We offer free Lee County postal set up & delivery
USPS prices set at 16¢ per piece
Quickprint Design Center has worked with dozens of different types of businesses in Southwest Florida designing, printing and delivering every door direct mail messages that work. We fully understand the USPS process and can deliver an advertising message that works for your business. For help with your every door direct mail printing & design complete our online request form or for the fastest response call us today.