Invoices Professionally Designed & Printed

An invoice is more than just a notice you send to customers to notify them that payment is due for services you have performed. Invoices are another great marketing opportunity for your business name and company image to shine.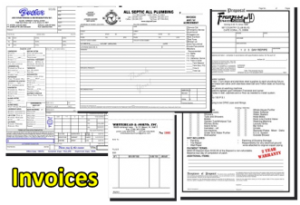 Invoices should display your company logo, business address, phone number and website at the top of the page in professional lettering. Ideally the same print styles used in your letterhead should be used on your invoices.
Invoices should outline what services you performed, how much the customer owes and where they should send your payment. Some invoices include the forms of payments excepted.
A well structured invoice that is pre-numbered aids in business accounting processes as well. To expedite payment and insure payments are accurately received consider including a business return envelope with your invoices.
The professionals with Quickprint Business Center have been helping local businesses with their invoice printing & design needs for over 26 years. For help with your invoice printing & design complete our online request form or for the fastest response call us today.