Creative Menu Printing & Design
Having a properly designed and printed menu is one of the most cost-effective and potentially profitable investments a restaurant can make. Often overlooked as a marketing tool, menus are the brochure of your business.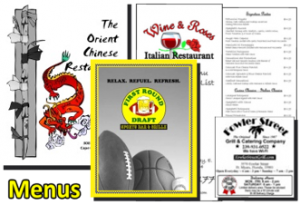 When designing a menu you should make sure that the menu layout is specific to your restaurant or food service operation. From layout, colors, and fonts, to item descriptions, think about giving your menu a unique style and flavor.
Specific features of menu printing can include:
Unique paper stock folded or flat
Full color photos
Lamination
Place mat menus & Kids menus
Matching To Go Menus
Table cards, discount cards & coupons
There are many things to consider when designing and printing a restaurant menu. The professionals at Quickprint Business Center have been helping local restaurants with menu printing and design for over 26 years. For help with your restaurant menu printing and design complete our online request form or for the fastest response give us a call today.