Welcome to Quickprint Business Center
Quickprint Business Center is a full-service design & printing company. Our design and printing services range from small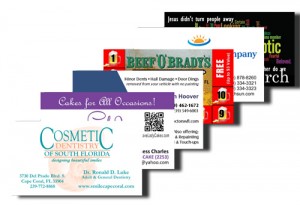 one color printing projects to full-color digital printing. We understand the significance of your printed materials. Much of the time, the first impression of you or your business is made through printed media.
Since 1990, our original team at Quickprint Business Center has worked with 100's of businesses and individuals providing every type of printing service imaginable throughout Southwest Florida. We are proud to say our clients have started and grown their business with the help of our expert design and professional printing services. We have grown over our 26 years of service and confidently display our motto of "We Design & Print Just About Everything for Everybody!"
Our list of printing services has also grown to include:
Our mission at Quickprint Business Center is to provide our clients with unparalleled customer care and high-quality printing services. As part of our continued customer care pledge, we offer delivery throughout Lee County and can ship direct anywhere. We offer seamless online file uploading, fast turn around on estimates and even faster turnaround on your printing services. For help with your printing & design needs complete our online request form or for the fastest response call us today.