Professional Brochure Printing & Design
An informative brochure is a great way to educate your potential customers about your specific products or services. Because your brochure could be the most important tool in your printed marketing message, it's important you understand all your brochure printing options. The professionals at Quickprint Business Center have created & printed hundreds of brochures. We can assist you in creating a great brochure that represents your business & showcases your services or products.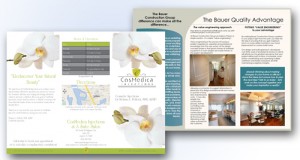 Limited Only By Your Imagination Brochure Features Include:

Full Color Design
Custom Paper Finishes
Many Paper Sizes
Multiple Color Photos
Folding Options
The professionals at Quickprint Business Center have been helping local businesses with brochures printing & design for over 26 years. For help with your professional brochure printing & design complete our online request form or call us today.