Promotional Memo Pads

Every business considers some type of promotional product to better market their business. One of the least expensive promotional products often overlooked by businesses today is memo pads.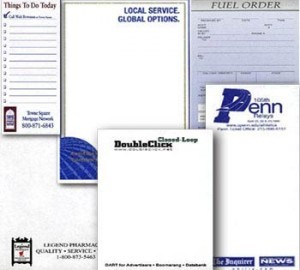 Memo pads are beside practically every business phone and on every desk making them a natural way to create brand awareness of your business. Memo pads with your business name, logo and contact information are a friendly "gift" to provide to every customer or vendor.
Memo pads are available in various sizes and colors. You might want to also consider adding humorous drawings, sayings, inspirational messages or more to your business memo pad.
The professionals at Quickprint Business Center have been helping local businesses with memo pad printing and design for over 26 years. For help with your memo pad printing and design needs complete our online request form or for the fastest response give us a call today.